Connecting science & society
Communications & Scientific culture
IDIBELL's Communication and Fundraising Unit aims to improve public understanding of science focusing on the institute, its researchers and its value to society.
The unit carries out its mission through a wide range of initiatives and activities aimed at different audiences, including researchers, journalists and the media, politicians, students, science professors, the general public and, of course, members of IDIBELL.
Press, radio & TV
in the spotlight
news published on our website
Digital & social media
IDIBELL in motion
Corporate image & website
IDIBELL's website is our main tool to communicate with our audiences. It includes information about our sevices, innovation activities and all our groups can highlight their activity. There you can also find the details about the activities we organize and all the news related to the Institute.

181
different countries of origin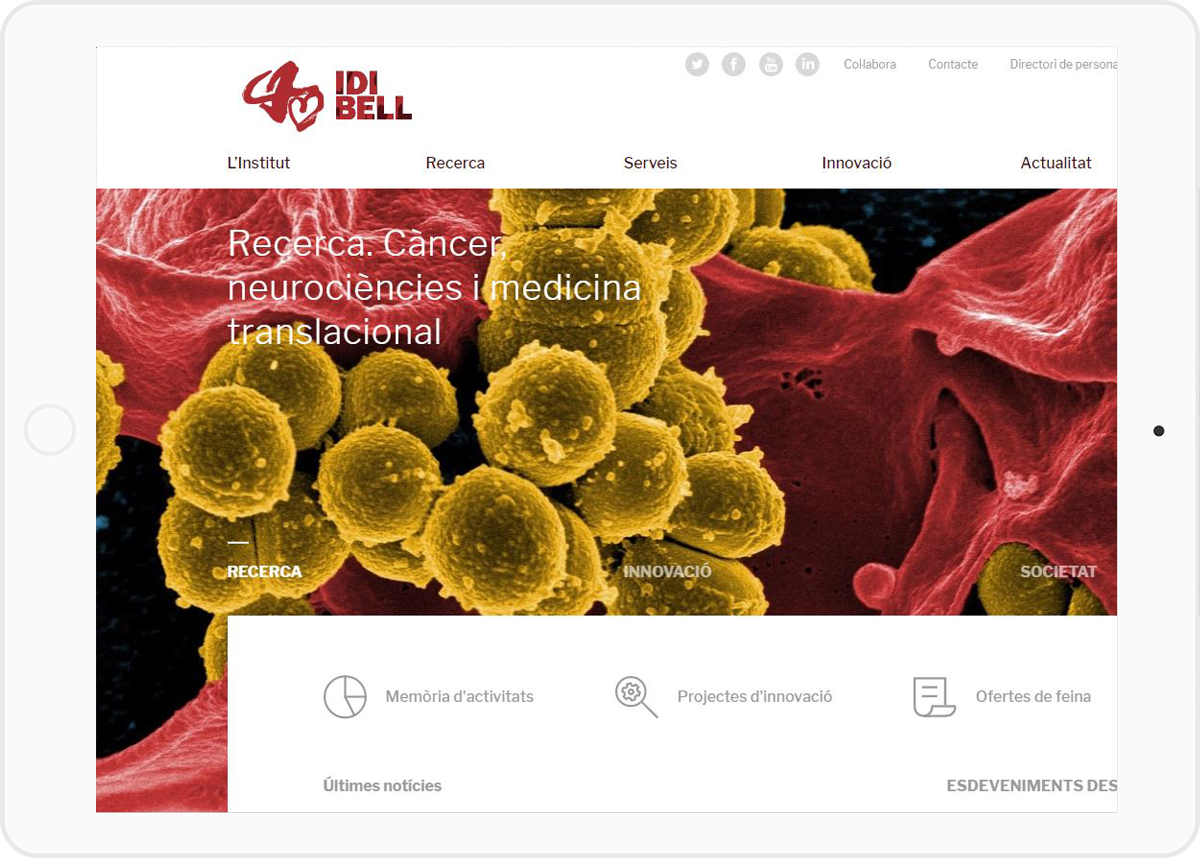 Scientific culture
Science & Society
in-person public engagement activities
online outreach initiatives
"Being a Curious Music-Mind", a combination of art and innovation
Music plays a key role in our lives: it has the inherent ability to evoke a wide range of emotions and feelings. But strong individual differences have been observed in the intrinsic motivation to look for new music and enjoy it. With the purpose of exploring and studying the differences in the vibrant world of musical curiosity, the Sónar+D festival, L'Hospitalet City Council and the Bellvitge Biomedical Research Institute (IDIBELL) came together to present a unique and inspiring proposal, full of talent and innovation thanks to the combination of culture, science and technology.
On November 2020, the website sinergia.l-h.cat/ for the dissemination of research and innovation in health was launched, a virtual space that gathers informative activities and audiovisual content that aims to bring the work carried out in the institutions of the Bellvitge's research, assistance and teaching ecosystem to the entire population.

Within the website, visitors can immerse themselves in the world of research through IDIescape, the escape room that challenges us to find the cure for a highly contagious viral infection in just one hour. An experience that has ended up leaving the screen and has also opened the doors of the IDIBELL laboratories so that participants can experience the research in person. The Experimenta section offers two scientific workshops, on cancer research and neuroscience. To enter the most innovative facilities of Bellvitge, Sinergia provides 360º virtual tours to four facilities. However, this year it has once again offered face-to-face visits, talks and activities, which were interrupted due to the health situation caused by Covid-19.


Fundraising
"A taste for research"
In 2021, we made a commitment to research. We wanted to highlight a very tasty campaign that we conducted together with the argentinian artisanal empanada company Tío Bigotes. However, we are pleased to be not alone in our commitment to health care. We would like to acknowledge the many institutions that have relied on us to promote research projects.
The + important moustache
In November we joined forces with Tío Bigotes, the famous argentinian artisan empanada company, to fight prostate cancer. We launched a solidarity campaign with a lot of flavour that gave birth to the #CajaMovember. A box made up of 12 empanadas of your choice, available throughout the month, with 25% of the total purchase going to prostate cancer research. However, we didn't stop there, we challenged empanada lovers to scan the QR on the box, take a selfie with the exclusive #Movember filter and upload it to social media.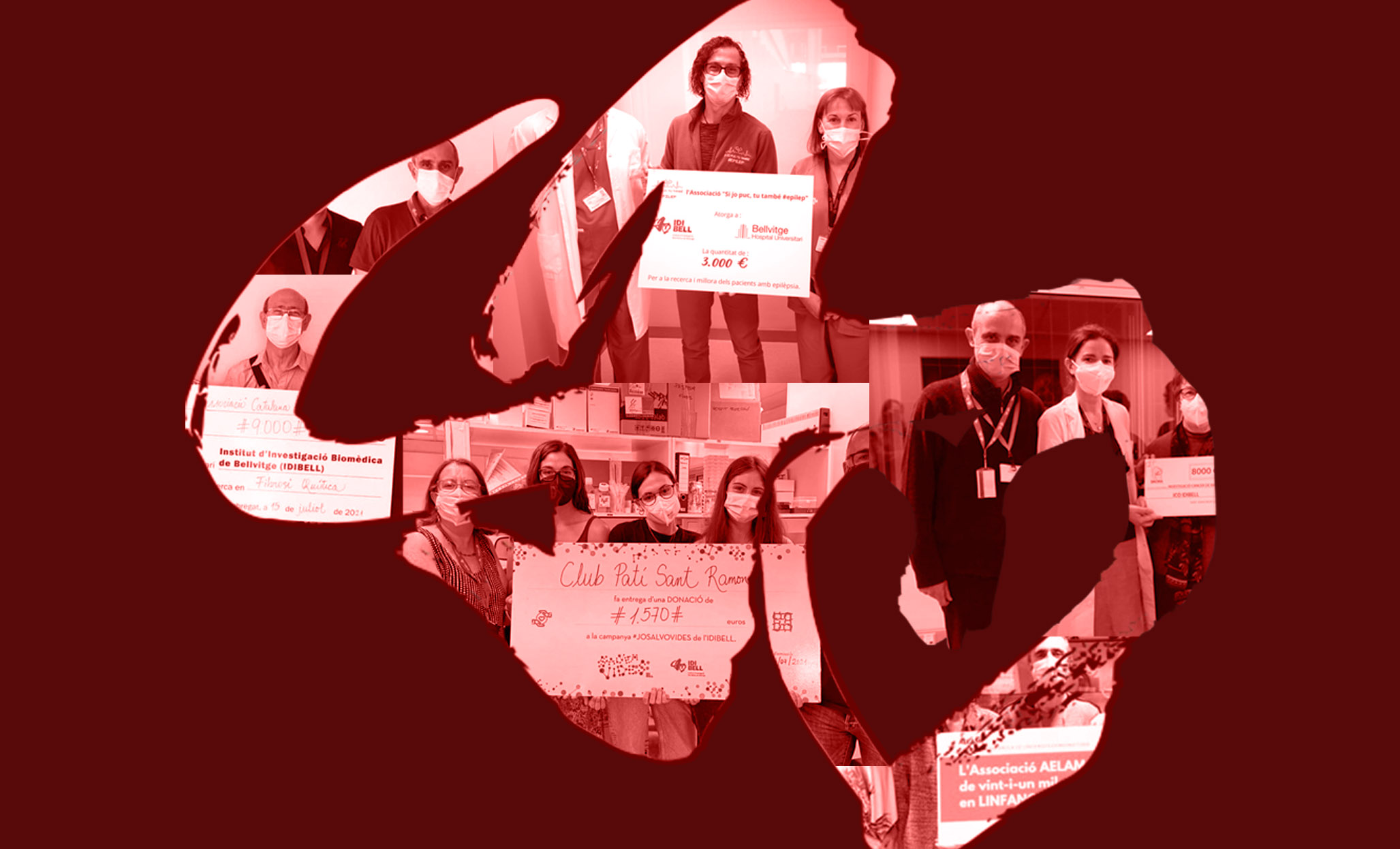 Thank you very much!
This year, many institutions have relied on IDIBELL to promote research. Their donations have helped us to go a step further in our health projects. For this reason, we want to thank their dedication to Fundación GECP, Fundació Catalunya La Pedrera, Asociación Española de Linfangioleiomiomatosis (AELAM), GINKGO Apac Berguedà, Associació de Diabetis de Catalunya (ADC), Associació Catalana de Fibrosi Quística (ACFQ), Associació Dacma, Fundació Internacional Miquel Valls Contra l'Esclerosi Lateral Amiotròfica, Associació "Si jo puc, tu també #epilep", Patronat Cultural i Recreatiu – Moviment Toca-te-les and Club Patí Sant Ramon.